Just what is Honey From The Bee?
Honey From The Bee is a fine artisan whose jewelry I wear and wish to share with you.
I wear very unique pieces of jewelry created by
Honey From The Bee
. Above is one of her new pieces called
"Surf"
. I was curious and asked Do you purchase your favorite stones and embellishments and then come up with how you will design your jewelry? Or have an idea and purchase based on your idea?
Almost always I design around stones and vintage items that I already have. However I will maybe 50% of the time purchase additional beads in a supporting role to finish the piece. I have drawers of stuff to inspire me and often they will be purchased and tucked away both literally and figuratively. Tucked away in my brain to sit until something inspires me to go find that focal. Then it's a flurry of activity with me pulling and closing drawers to find beads and such that might fit the bill. Sometimes drawing or just spreading everything out on the table to see if I'm on the right track.
Wildflower
Wildflower
above is a lovely piece and look closely and see the wildflowers and the honey bee!
Because music is such a part of my process I was wondering What sounds do you hear in your space while you are working?
Fun question. If I'm in the midst of actually putting a piece together - that the design is set and I know what I'm moving towards, I'll put a CD in that I'll sing and move with like a Patty Griffin, Lifehouse or even Coldplay. If I'm designing I like quiet. Not dead quiet, but the kind of quiet where the windows are open and I can hear birds, water lapping against the bank, and even distant sounds like trains and lawn mowers. I don't want to hear the television or anything where I could get distracted, because I could get involved!
Follow Honey From The Bee on twitter https://twitter.com/honeyfromthebee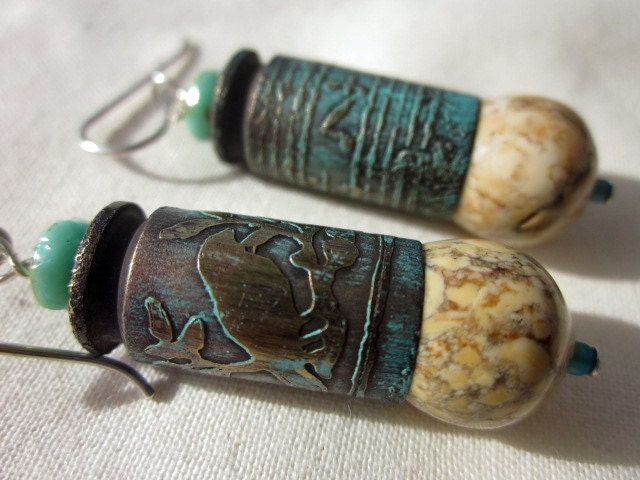 PS these are my favorite newest acquisition from Honey From The Bee LUV THEM!!